Business Education Roadmap
A large number of educational institutions offer wide variety of Business education programs in field of management sciences, Business Administration, Public Administration and commerce. In this electronic era, the needs and requirements of new and unique courses raise the quantity bar too high. To maintain the quality among numerous business courses Higher education commission revised the status of these programs periodically.
The degree programs of the following disciplines have fallen in the scope of the Council.
Business Administration

Public Administration

Management Sciences

Commerce
Additional emerging disciplines and degree programs pertaining to the Business Administration/Public Administration/management sciences shall be added to this list in the future.
Course load per semester for undergraduate level: 15-18 credit hours
Course load per semester for graduate level: 12-15 credit hoursRevised Business Education Roadmap- 2012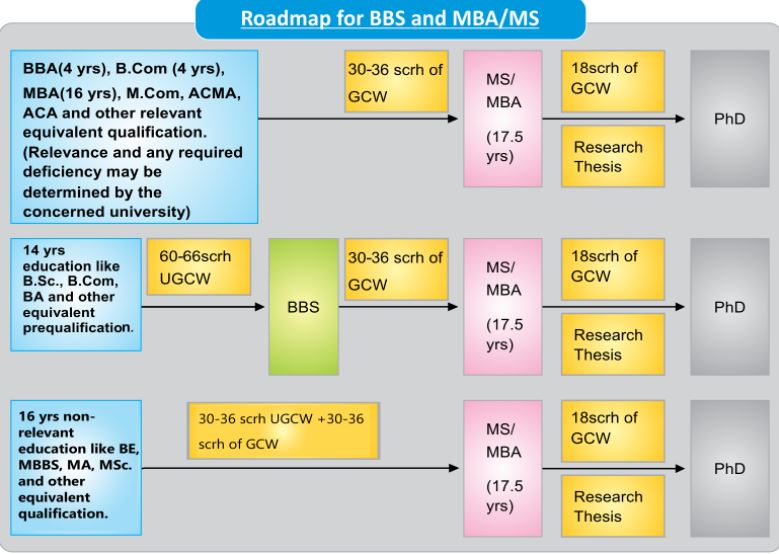 Semester Credit Hour----------- scrh
Undergraduate Coursework ----UGCW
Graduate Coursework----------- GCW
Notes:
30-36 Graduate Coursework for MS/MBA includes compulsory 6 credit hours of research thesis in case of MS and research/field project in case of MBA. (A consensus was reached in previous meetings that research thesis is compulsory for MS and can't be substituted with two courses. In case of MBA the project may be substituted with two courses.
It is one of the important aspects for accreditation of degree programs to check the curriculum or syllabi of the educational institute upto the approved standards maintained by Higher Education Commission. Higher Education institutes are notified to implement and follow the guidelines of Business Administration Education from year 2009,recommended by the experts of National Curriculum Revision Committee (NCRC).